Kurt Rosentreter's Published Books
Learn more about kurt's best selling personal finance books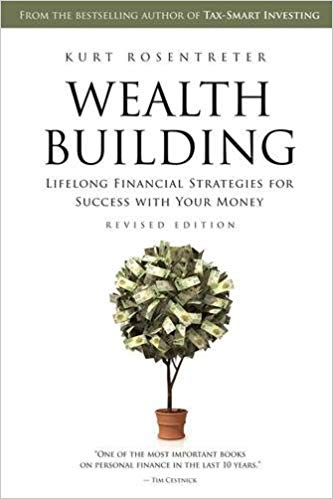 Kurt Rosentreter Wealth Building
Lifelong Financial Strategies for Success with Your Money
(Revised Edition)
Publisher: BPS Books, 2009
This was the last book written by Kurt before he moved into on-line newsletters as a much more time sensitive method of educating clients on personal finance (you can subscribe to Kurt's newsletter here).
The 2009 edition of Wealthbuilding was further enhanced to address detailed planning for aging Canadians and included common sense, practical advice in the areas of income tax planning, investing,  how to use debt, approach to life insurance,  retirement planning strategies, estate tips, understanding financial advisors and fees and more.  
This book is still the only book we have seen in Canada that discusses how your approach to your finances should change between ages of 30, 60, and 90.  Covering each topical planning area of finance, "Wealthbuilding" is a solid read in the "plain English" format Kurt is known for.
Wealthbuilding (2009) is still in print and available from the following channels: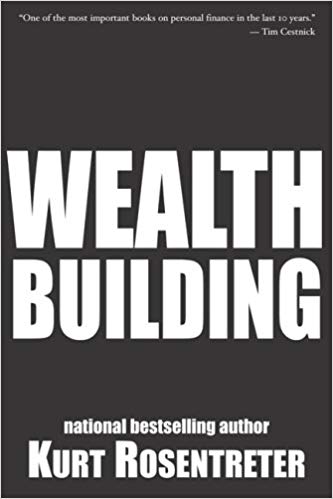 Kurt Rosentreter Wealth Building
Publisher: Insomniac Press, 2005
Wealthbuilding released March 2005, is the first of Kurt Rosentreter's published books in the new series on the evolution of managing your finances as you age. In this 260 page eyecatching hardcover book, Kurt details how to change your approach to your finances as your goals evolve, your net worth changes, and your financial needs progress.
From taxes, career and debt, to investing, insurance and retirement planning, find out if you are behind your peers, off-track altogether, or where you should be at this point in your life. Wealthbuilding is unlike other financial books and in early reviews has been called "the most important book on personal finance in the last ten years", by Tim Cestnick, CA, Tax Columnist for The Globe and Mail newspaper.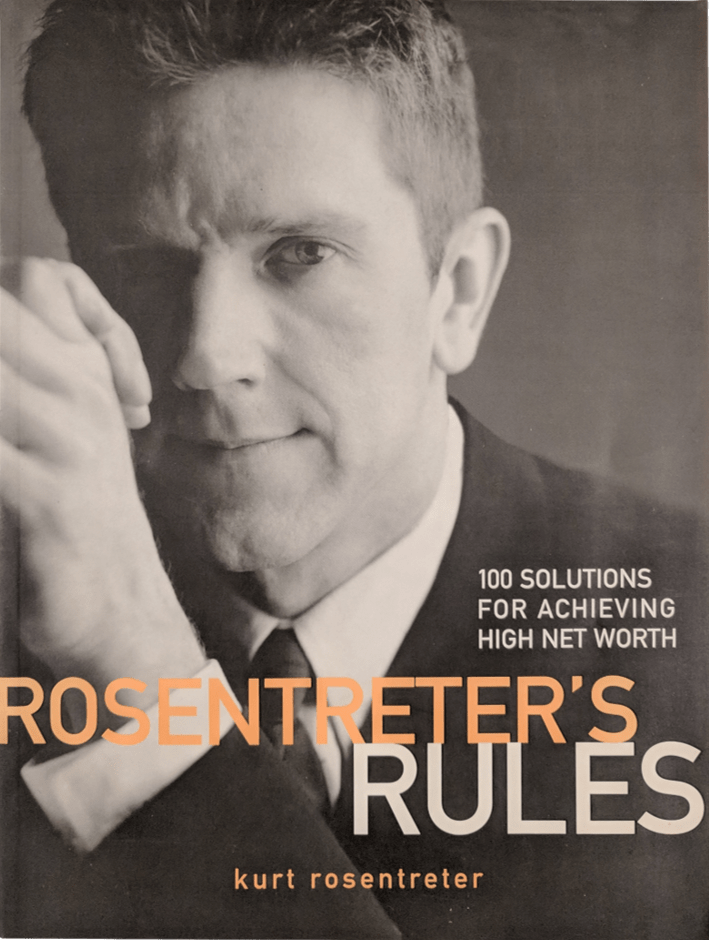 Rosentreter's Rules: 100 Financial Strategies to Achieve High Net Worth
Publisher: Prentice Hall Canada, 2001
On the heels of the best-selling "Tax Smart Investing" series of books, Kurt sat down to write again and this time shared his top 100 financial strategies related to retirement, estate planning, taxes, kids,  elderly parents, insurance, cash flow, real estate, career finances and more to help Canadians take advantage of often lesser-known strategies. 
This book is a nice compliment to Kurt's tax smart investing book series in that Rosentreter's Rules is more financial planning based –  offering not-so-common planning techniques relevant to your every day goals.  
This book is out of print but you can still find copies in libraries and other locations.  
50 Tax-Smart™ Investing Strategies
1998, Updated 1999, 2002, 2004
(Out of Print)
Publisher: Stoddart Publishing, 2004

As the past-co founder of the national wealth management practice at one of Canada's "Big four" accounting firms, Kurt and the founders had seen incredible success in winning clients away from Canada's largest and oldest financial advisors in Toronto using "tax smart investing". 
Kurt and the team combined the logic of income tax planing with investment portfolio design to focus on maximizing after-tax portfolio investment return.  Accountants do not do this in general.  Neither do your money managers.  By combining the two planning areas Kurt and team were able to maximize what you take home after-tax instead of the pre-tax investment returns you see in the newspaper.  
In this first edition and subsequent updates, Kurt outlined all of the key financial strategies that they used in their practice to help wealthy Canadians get ahead faster by focusing on after-tax investment portfolio design.  
Kurt's "Tax Smart Investing" book became a quick best seller at the time and established him across Canada as a leader in tax smart portfolio design for affluent Canadians.  
If you are lucky enough to still find one of these "Tax Smart Investing" books in a library in Canada they still contain a wealth of key tax-smart investing strategies that continue to withstand the tests of time and are part of Kurt's investment planning process with clients today.   Note that tax rates and tax strategies may be out of date and this was one of the reasons for the need to update the book in the past. 
Still a must-read twenty years later.